InkVivo wins first edition of Scouting for innovation
SHARE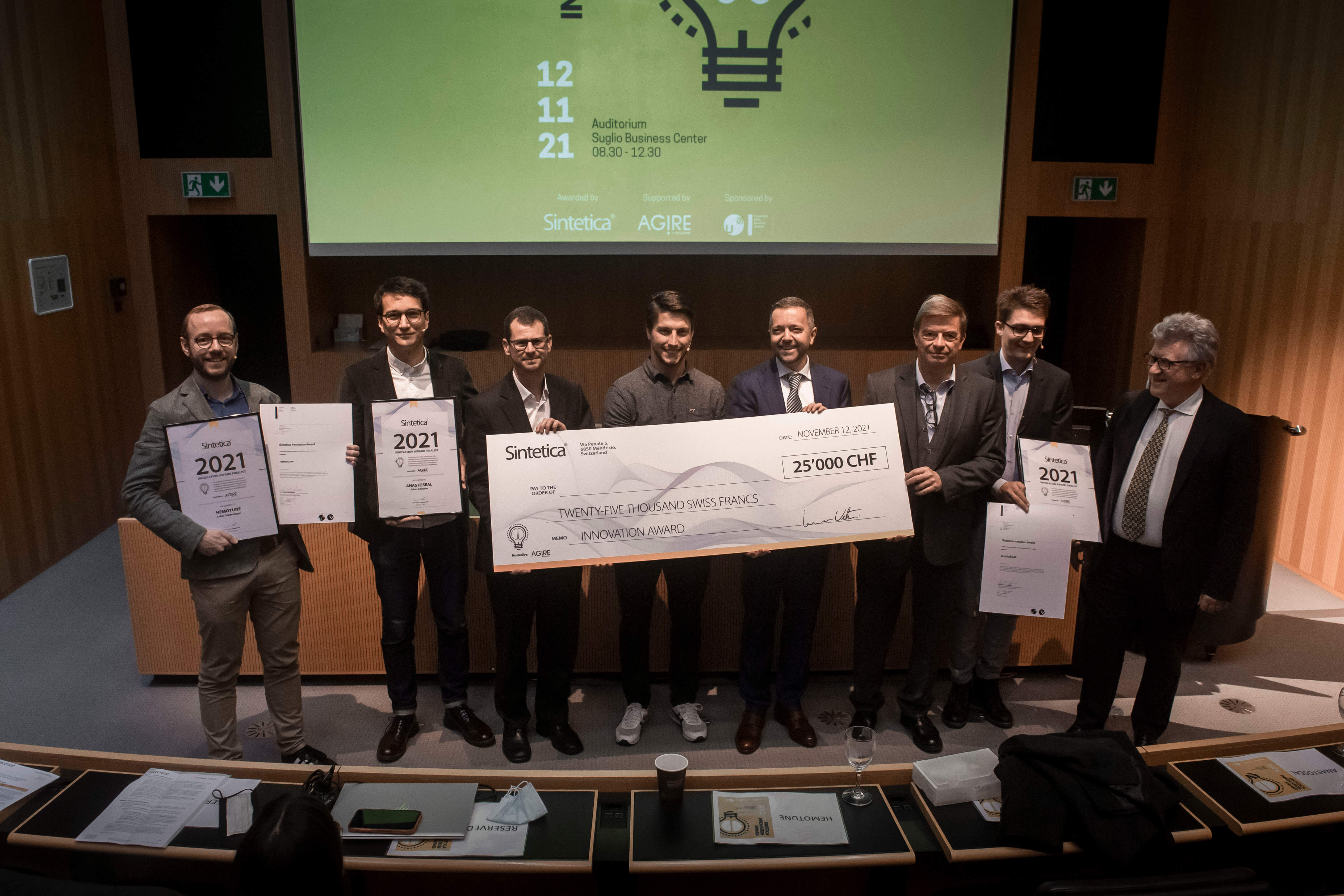 The first edition of our initiative Scouting for innovation ended today with the awarding of InkVivo, startup winner of the competition promoted by the historic pharmaceutical company Sintetica SA based in Mendrisio.
In late spring, Sintetica, which is also celebrating its centenary this year, launched a call for ideas in the field of perioperative and critical care with a focus on digitalization. Although this is a very specific field, 19 projects were submitted, 7 of which are based in Ticino. This morning, at the auditorium of Suglio Business Center in Manno, the idea of InkVivo, a startup based in Ticino, was awarded. It presented an innovative solution, developed with a 3D printer, to reduce postoperative pain in a local and targeted manner.
InkVivo, headed by Elia Guzzi, wins today's prize money of CHF. 25'000.- offered by Sintetica SA. The ceremony took place in the presence of the top management of Sintetica, Agire Foundation, and representatives of Università della Svizzera italiana who, through their incubator USI Startup Centre, awarded the second and third place winners, AnastoSeal and Hemotune, with hours of coaching.
About Scouting for innovation
Scouting for innovation, which falls under the broader umbrella of Agire Scouting Days, promotes innovation in companies based in Ticino, encouraging them to implement innovative projects in new ways that go beyond company boundaries. In this way, companies can not only draw on new ideas to expand their portfolio of products and services, but can also experiment with new innovation processes.
Agire's format ensures that the company is supported in this process: from the conception of the call for ideas, to promotion through its extensive network of contacts in the academic and startup communities, finally concluding with the closing of the call for applications and the selection of the winner.
At the end of the collection and selection process, a final event is organized at Ticino Technopole, during which the best idea is awarded and will then be implemented according to the guidelines given by the promoting company. The terms, evaluation criteria, prizes and methods of developing the idea are at the discretion of the company, while Agire Foundation's role is to assist in the process and activate its network of contacts.
More information: scoutingdays.info